Jodelle Ferland is a live-action actor most known for her portrayals of children in horror movies like Alessa in Silent Hill, Patience Buckner from Cabin in the Woods, and Emily from Dark Matter (and some may remember her as the innocent child turned vampire Bree from Twilight).
At age four, Ferland's first leading role earned her a Daytime Emmy nomination for Outstanding Performer in a Children's Special and won her a Young Artist Award for Best Performance in a Television Movie. And she hasn't stopped since, earning more than 60 acting credits since the beginning of her career.
Ferland is appearing at Sunshine City Scare is a horror convention on May 13-14 in St. Petersburg, Florida at the Coliseum and surrounding areas. The new convention will broaden the definition of a traditional horror con by going beyond movie horror and adding anime horror, video game horror, and comic book horror. Early bird tickets for the family-friendly event start at $25.
In honor of Ferland appearing at Sunshine City Scare, here are our favorite five characters she has portrayed.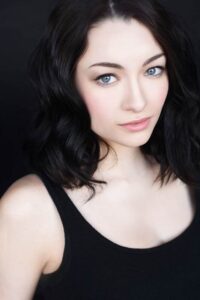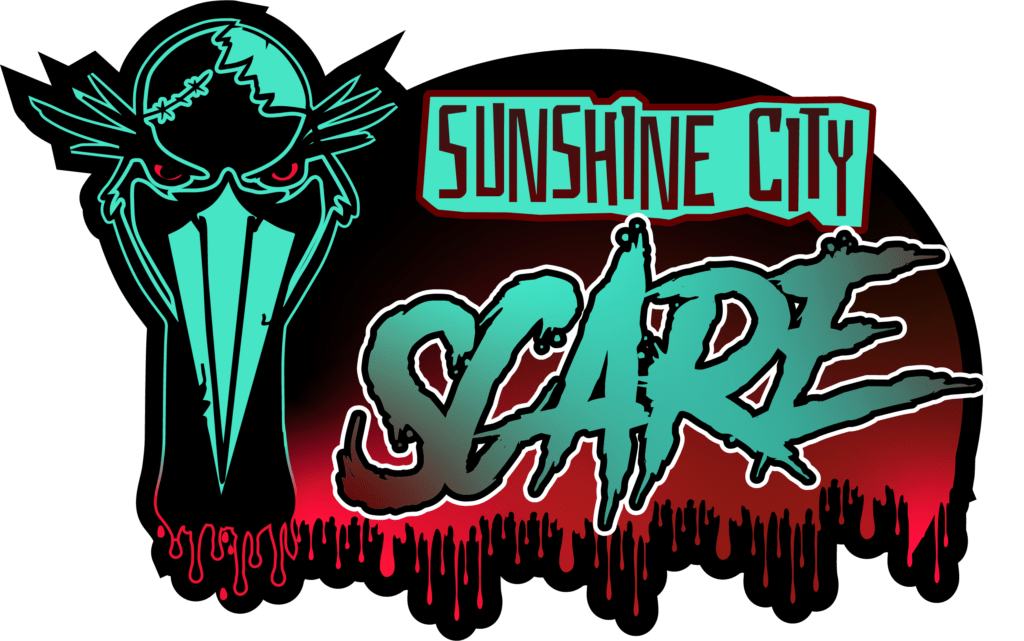 Favorite Character #1:
Alessa From Silent Hill
Alessa is the driving force for the events in the Silent Hill franchise. The town Silent Hill labeled her as a witch. And the dark side of her soul responded by creating the Fog World and the Otherworld so she could capture and kill those who had hurt her.
"Alessa was so lonely and hurt and scared. They should have known better than to hurt her so badly. When you're hurt and scared for so long, the fear and pain turn to hate and the hate starts to change the world. Alessa's hate grew and grew, burning inside her."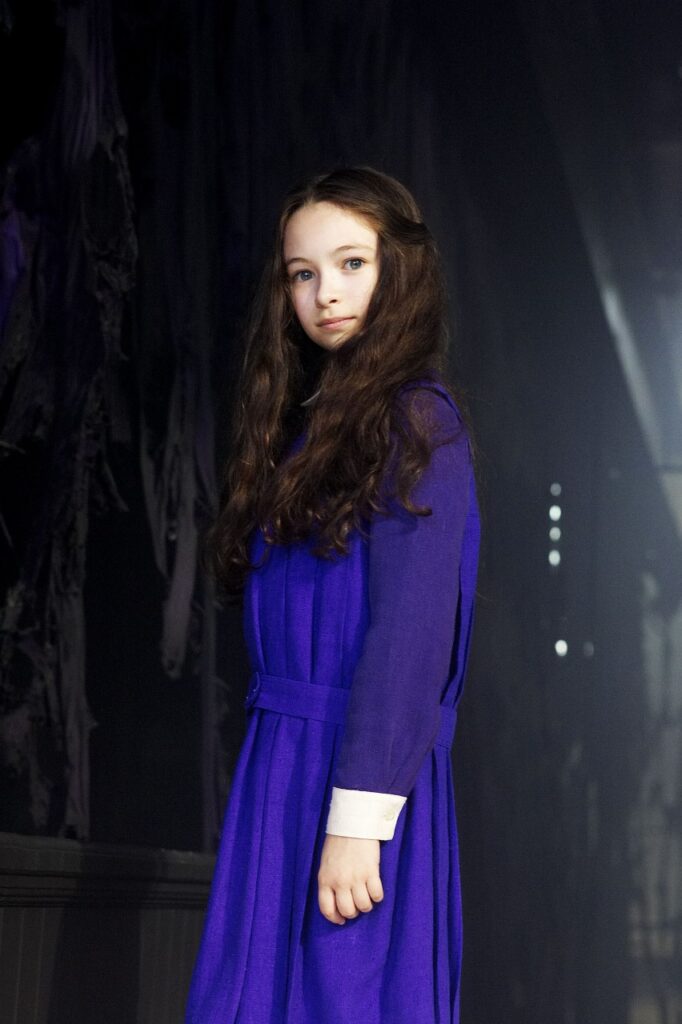 Favorite Character #2:
Patience Buckner From Cabin in the Woods
Patience is a member of the Buckner family. Patience and her family are summoned in Latin from Patience's diary by zombies capable of wielding weapons and resisting pain from injuries.
Here is a video covering the making of Cabin in the Woods and a brief overview of the effects and makeup used to create Patience.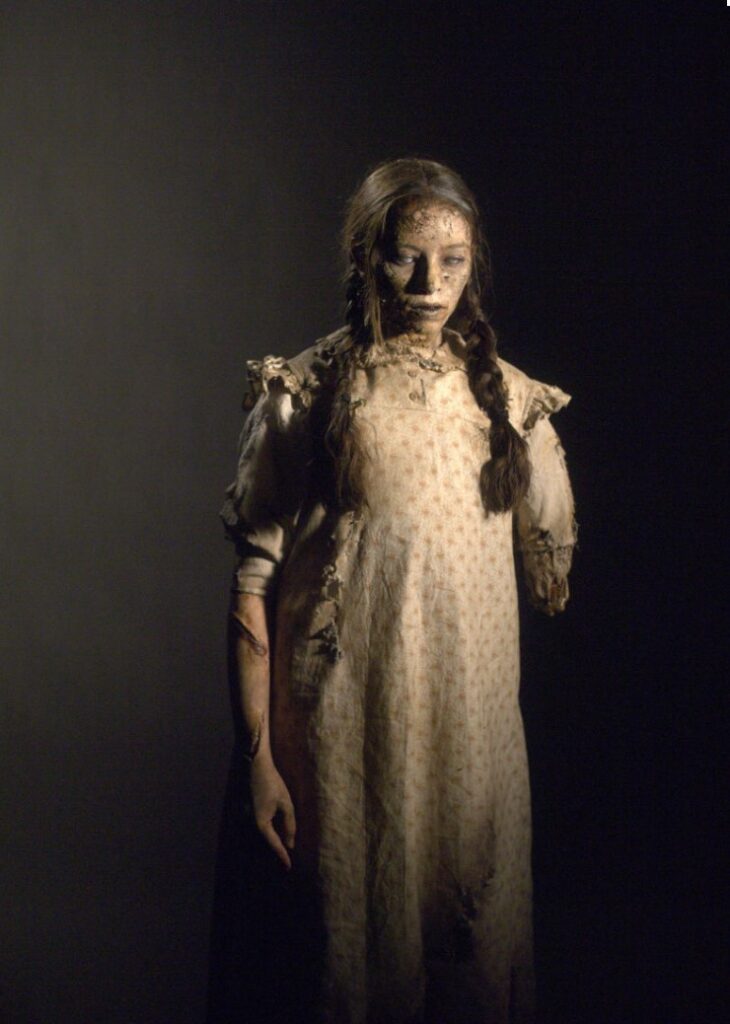 Favorite Character #3:
Emily From Dark Matter
Emily, also referred to as Das and Five throughout the show, was a skilled pickpocket. But after stealing from the wrong man, she was forced to stow away on the Raza. She is proficient in electrical engineering, loving to tinker with wires and systems. 
Here is the Trailer to the show.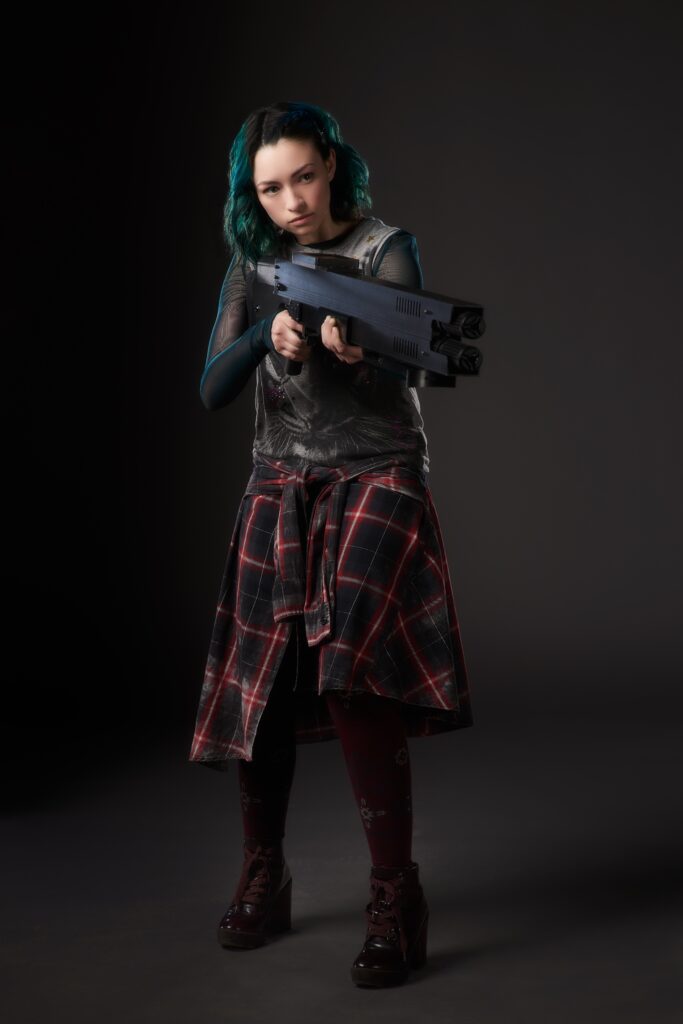 Favorite Character #4:
Bree from Twilight: Eclipse
Bree is a young vampire created to be a part of the army meant to fight the Cullens.Bree was always a bit reserved and withdrawn, always attempting to not stick out. She was a bit of a bookworm. Bree had great self control of her vampiric instincts, especially for a newborn vampire. 
"Bree's not really given a chance. She wants to be good, but nobody gives her a chance. She doesn't know the rules, and so how can you follow rules that you don't know. So it's not her fault, but she gets punished anyway."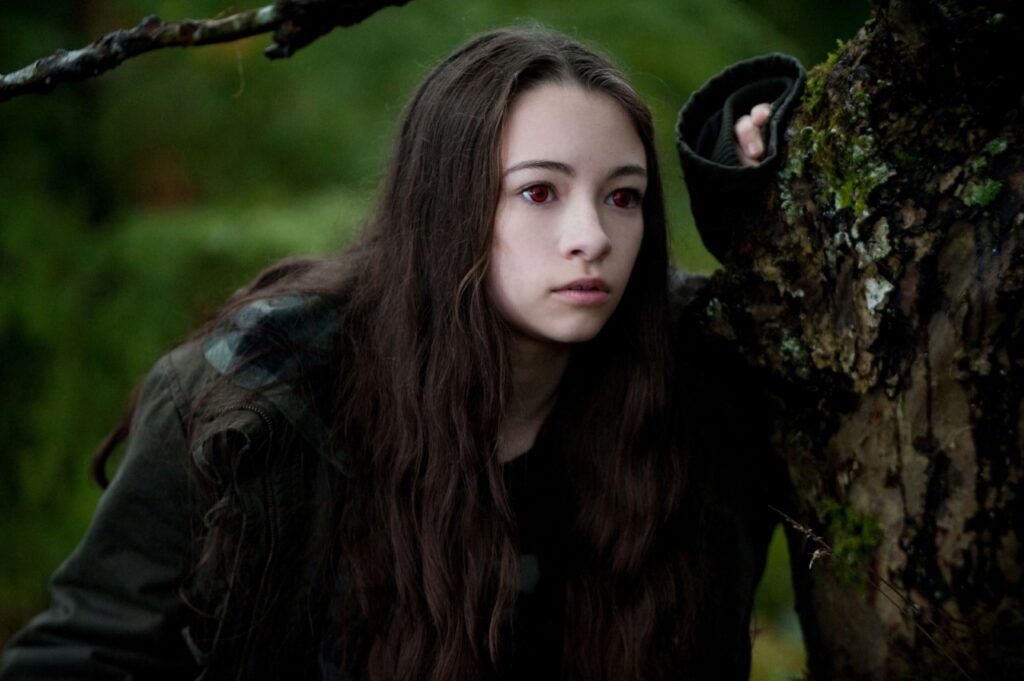 Favorite Character #5:
Little Sister from Bioshock 2
Little Sisters are young girls who were genetically modified and conditioned to gather ADAM from corpses. Ferland voices all the little Sisters in Bioshock 2 but also represents the named little sister Cindy Meltzer, who was kidnapped for the program.
Here is a video of all the Little Sister animations and actions.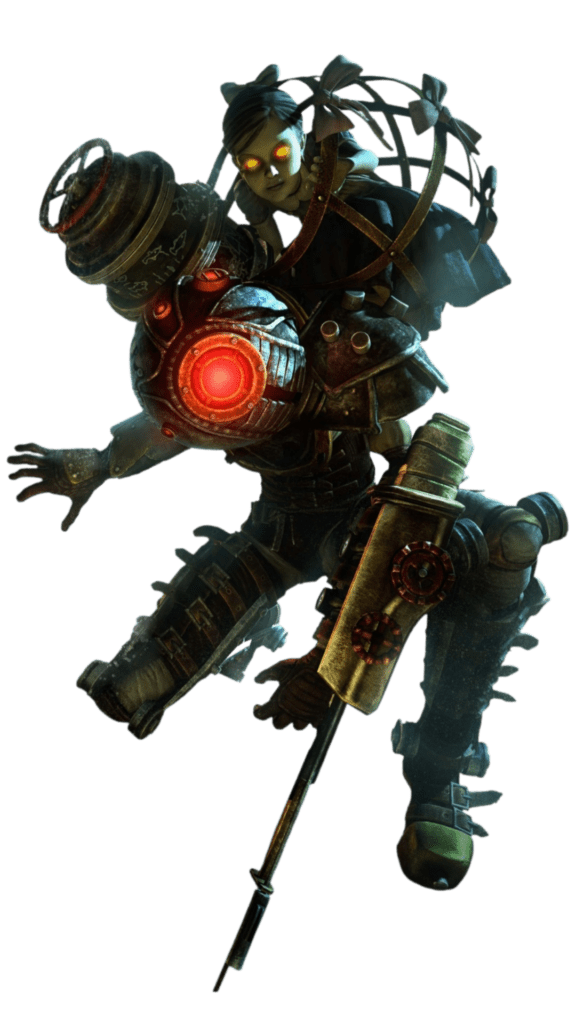 Favorite Character #6:
Aggie from ParaNorman
Aggie is a young girl who was tried as a witch in 1712 because of her ability to talk to the dead. In her anger at being killed, she cursed the seven judges of her trial. Eventually Norman is able to make her see reason, and she lets go of her resentment, finally passing on. 
"My mommy brought me here once. We sat under the tree and she told me stories, they all had happy endings, and then those horrible men came and took me away and I never saw her again!"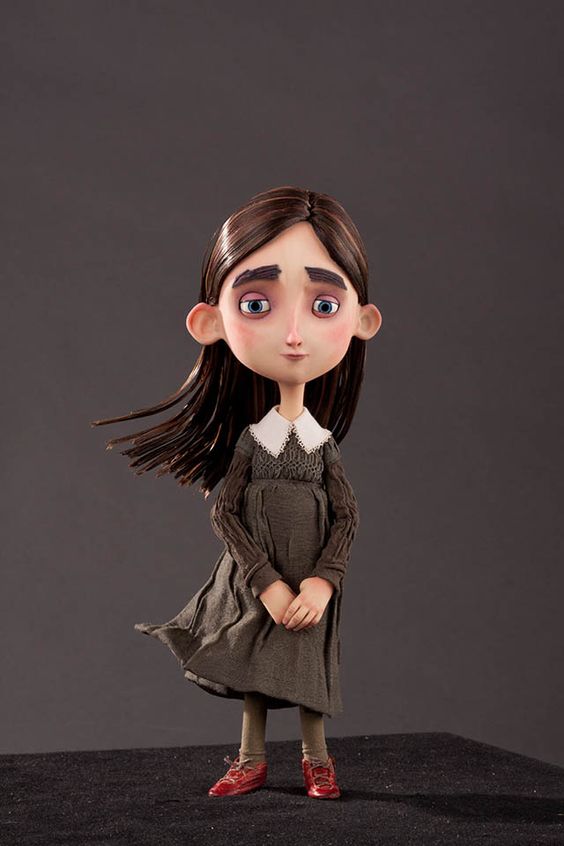 Favorite Character #7:
Melanie Merchant from Supernatural
Melanie is the ghost of a young girl. When alive, she was adopted by Isaiah Merchant after her entire family was murdered in their sleep. She was the only survivor.
"Yeah. Who'd suspect her? Sweet little girl. So then she kills Isaiah and his family, the old man takes the blame. His spirit's been trying to warn people ever since."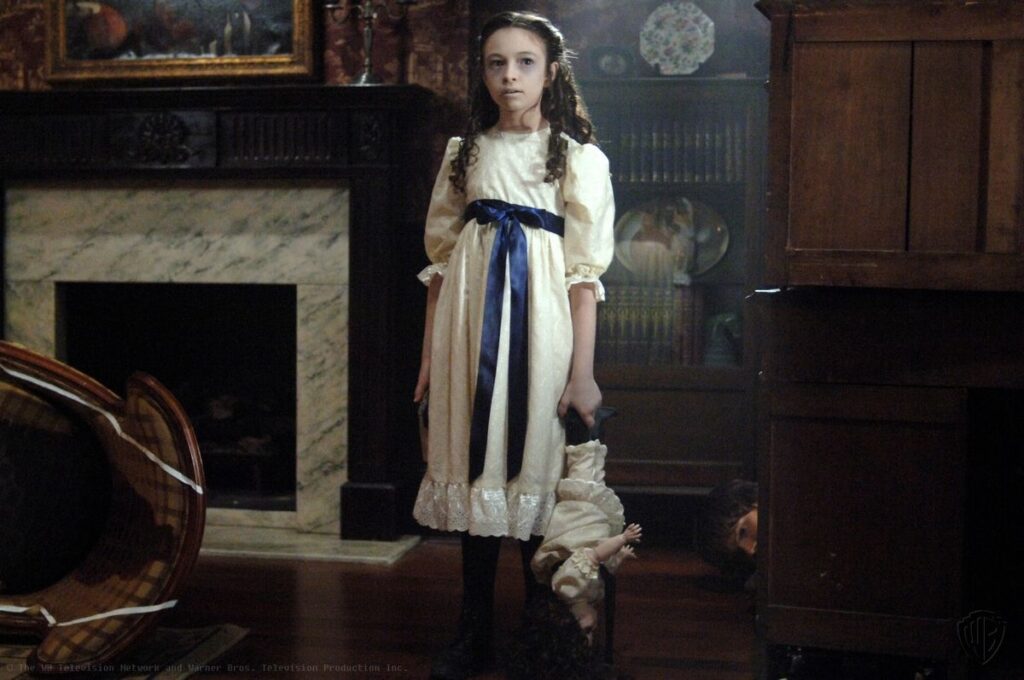 horror in movies & tv subgenre
In addition to Ferland, Sunshine City Scare celebrates horror in movies & TV with anotther live-action actors who has played roles in major roles in popular horror movies.
Casper Van Dien is widely known for his roles is cult classics like Tim Burton's horror flick Sleepy Hollow and the sci-fi/action/horror movie Starship Troopers as well as several vampire movies including Modern Vampires and Vampire 3000.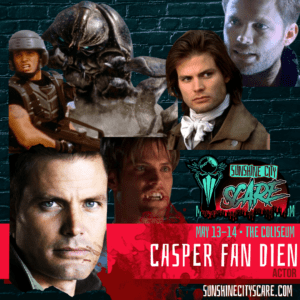 Anime horror characters at Sunshine City Scare
4 voice actors who portray the following characters will be at Sunshine City Scare:
Denji from Chainsaw Man
Pochita from Chainsaw Man
Future Devil from Chainsaw Man
Enmu from Demon Slayer
Kuki Urie from Tokyo Ghoul:Re
Gabi Braun from Attack on Titan
Furlan Church from Attack on Titan: No Regrets
Jazz from Welcome to Demon School! Iruma-kun
Celestia Ludenburg from Dangonronpa: the Animation
Shinichi Izumi from Parasyte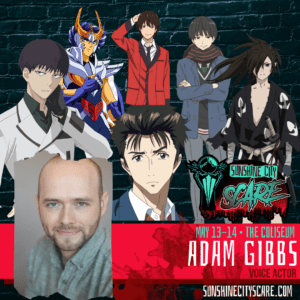 Anime horror maid cafe
How will a cute and adorable maid cafe transform into scary and creepy? Miria Maid Cafe, Orlando's only stand-along maid cafe, will add horror to everything they do at Sunshine City Scare from desserts and games to dancing and performances. And the group, which will be at the con both days, will also be performing on the main stage.
video game horror subgenre
The video game horror subgenre at Sunshine City Scare brings big-time characters from big video games through big-name voice actors. It's gonna be big! Characters from video games and shows based on video games include: 
Claire Redfield from Resident Evil 2
Alessa from Silent Hill
Little Sister from Bio Shock 2
Celestia Ludenburg from Dangonronpa: the Animation
Monster High creator Garrett Sander is making his first convention trip to Florida at Sunshine City Scare 2023! And in a huge announcement, Sander will be signing Monster High dolls FOR FREE at Sunshine City Scare both days. Attendees can bring their own Monster High dolls, or purchase the dolls from a choice of several vendors that will be stocked up. 
Sunshine City Scare 2023 is sponsored by Florida Comic Cons, a news site that covers comic, anime, sci-fi, horror, and pop culture conventions; and Florida Cosplay Digital Magazine, a free monthly magazine that spotlights cosplay throughout the state from features and interviews to photos from recent conventions; and Anime St. Pete, which is on Sept. 30-Oct. 1 at the historic Coliseum in beautiful St. Petersburg.