#1: denji from chainsaw man
Denji lives in a world that is cohabited by devils who can take the tangible form of fears and phobias. Denji is a devil hunter, who later is killed fighting a horde of demons. But the 16-year-old doesn't perish, rather his soul fuses with the powerful Chainsaw Devil, giving him the power to transform into Chainsaw Man at will.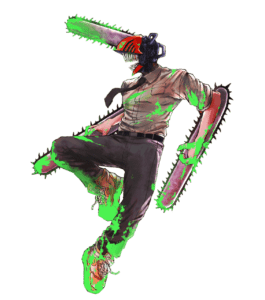 #2 Furlan Church from Attack on Titans: No Regrets
Furlan Church, along with his friends Levi and Isabel, are thieves in the Underground District who are enticed to the surface with the promise of citizenship and a clear record if they become part of the Survey Corps.
#3 Jazz from Welcome to Demon School! Iruma-kun
Jazz is the second son of the Andro family and his family's ability is Furtive Glance (Pit), which simultaneously allows him to identify objects on a target and determine the shortest route to steal them (while also being able to extend his fingers like snakes to steal things). His character, which is among the Misfit Class Demons, is ranked Daleth (Rank 4) and his familiar is a Split Wolf.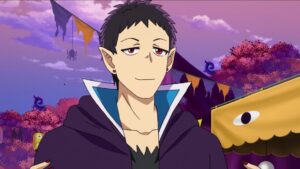 #4: Rody Soul from My Hero Academia: World Heroes' Mission
Rody's Quirk Soul, or superpower, is the ability to manifest as a small, bird-like animal named Pino (ピノ), who changes facial expressions based on his feelings, which is due to a link to his soul. Rody is also a resident of Otheon.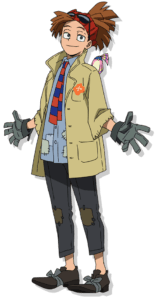 #5: Squalo from Jojo's Bizarre Adventure
Squalo is a tertiary antagonist who is featured in the fifth part of JoJo's Bizarre Adventure, Vento Aureo. After defecting from Passione, Squalo works with his partner Tizzanoin Venice in order to assassinate Team Bucciarati.

#6 Shahid from Fire Emblem Warriors: Three Hopes
Shahid is a prince of Almyra who aspires to conquer the Leicester Alliance, and to use the prestige gained from it to inherit the Almyran throne.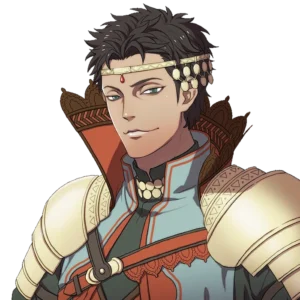 Anime horror characters at Sunshine City Scare
4 voice actors who portray the following characters will be at Sunshine City Scare:
Denji from Chainsaw Man
Pochita from Chainsaw Man
Future Devil from Chainsaw Man
Enmu from Demon Slayer
Kuki Urie from Tokyo Ghoul:Re
Gabi Braun from Attack on Titan
Furlan Church from Attack on Titan: No Regrets
Jazz from Welcome to Demon School! Iruma-kun
Celestia Ludenburg from Dangonronpa: the Animation
Shinichi Izumi from Parasyte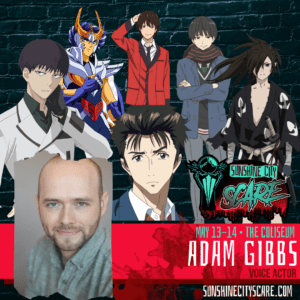 Anime horror maid cafe
How will a cute and adorable maid cafe transform into scary and creepy? Miria Maid Cafe, Orlando's only stand-along maid cafe, will add horror to everything they do at Sunshine City Scare from desserts and games to dancing and performances. And the group, which will be at the con both days, will also be performing on the main stage.
video game horror subgenre
The video game horror subgenre at Sunshine City Scare brings big-time characters from big video games through big-name voice actors. It's gonna be big! Characters from video games and shows based on video games include: 
Claire Redfield from Resident Evil 2
Alessa from Silent Hill
Little Sister from Bio Shock 2
Celestia Ludenburg from Dangonronpa: the Animation
horror in movies & tv subgenre
Sunshine City Scare celebrates horror in movies & TV with 2 live-action actors who have played roles in major horror movies.
First is actor Jodelle Ferland who is most known for her portrayals of children in horror movies like Alessa in Silent Hill, Patience Buckner from Cabin in the Woods, Emily from Dark Matter, and Aggie from ParaNorman  (and some may remember her as the innocent child turned vampire Bree from Twilight).
Second is Casper Van Dien who is widely known for his roles is cult classics like Tim Burton's horror flick Sleepy Hollow and the sci-fi/action/horror movie Starship Troopers as well as several vampire movies including Modern Vampires and Vampire 3000. 
Monster High creator Garrett Sander is making his first convention trip to Florida at Sunshine City Scare 2023! And in a huge announcement, Sander will be signing Monster High dolls FOR FREE at Sunshine City Scare both days. Attendees can bring their own Monster High dolls, or purchase the dolls from a choice of several vendors that will be stocked up. 
Sunshine City Scare 2023 is sponsored by Florida Comic Cons, a news site that covers comic, anime, sci-fi, horror, and pop culture conventions; and Florida Cosplay Digital Magazine, a free monthly magazine that spotlights cosplay throughout the state from features and interviews to photos from recent conventions; and Anime St. Pete, which is on Sept. 30-Oct. 1 at the historic Coliseum in beautiful St. Petersburg.