Rising cosplay star Kolackitty will be a cosplay guest at Sunshine City Scare 2023 on May 13-14 at the Coliseum and surrounding area in downtown St. Petersburg. Kolackitty was featured in Florida Cosplay Digital Magazine's February issue (actually, in addition to her feature, she also was on the cover seen below).
featured cosplay: jack skellington as pumpkin king
Kolackitty's featured cosplay for Sunshine City Scare is Jack Skellington in his Pumpkin King outfit. Here are two images she is using as an inspiration and guide in constructing the character. And also of photo of her standing more than 7-feet tall on the stilts she will use. 
In addition, she will be debuting the cosplay at MegaCon Orlando 2023 in early April, and displaying it at Sunshine City Scare in May. (note, she cannot wear the cosplay with stilts at Sunshine City Scare because as a guest cosplayer she will be hosting panels and meeting fans).
And there will be lots more on how she crafted the costume coming (stay tuned to our blogs and follow Sunshine City Scare on Instagram and Facebook.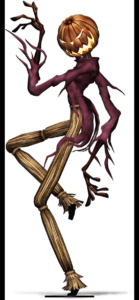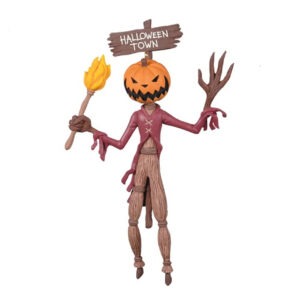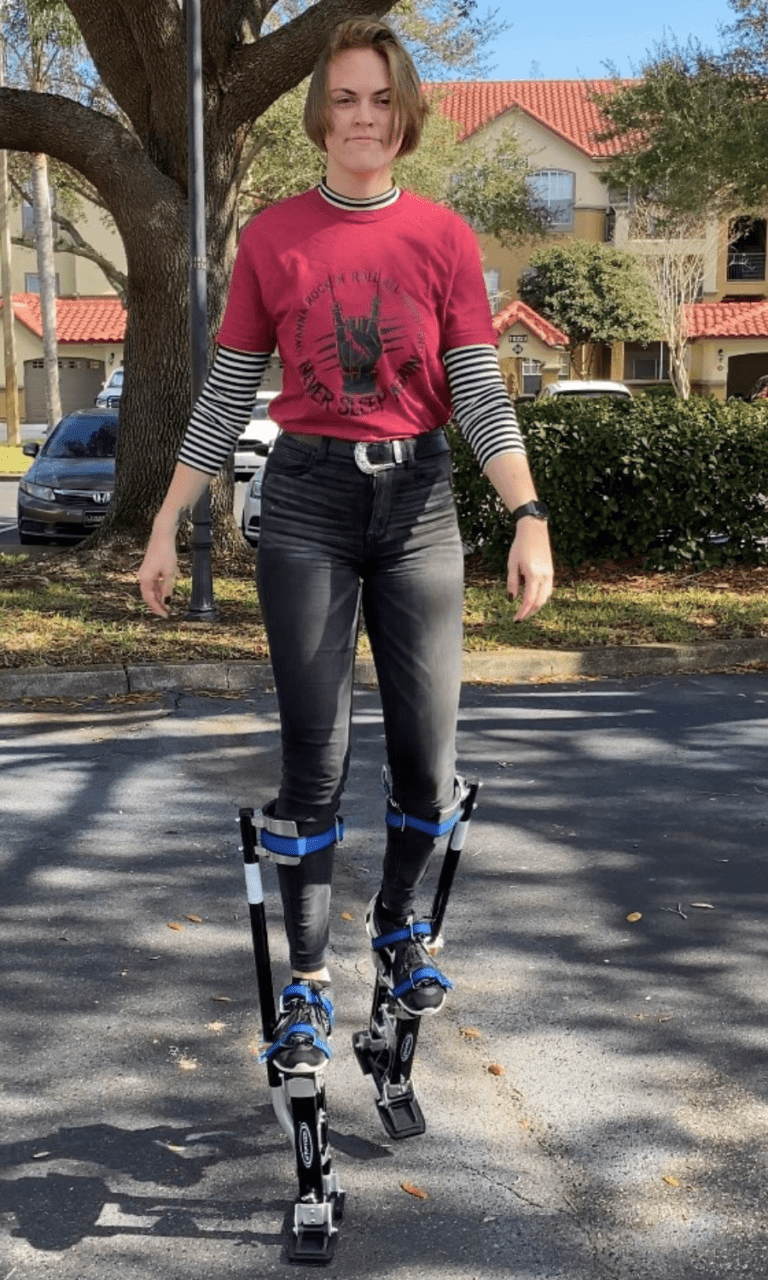 One more cosplay from KolacKitty
KolacKitty's Plague Doctor cosplay is an example of high creativity and low cost. For instance, clothes she already had were dyed and weathered. The props include a staff that is PVC pipe that has been painted, and a skull purchased at Dollar Tree that was augmented.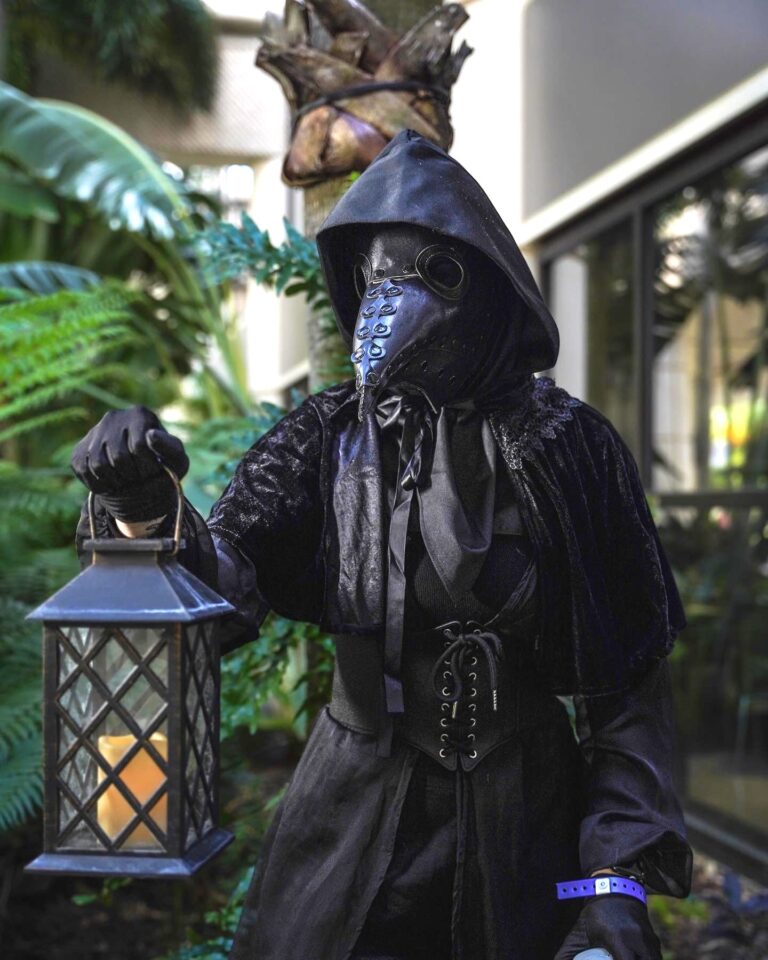 cosplay CONTESTS AT SUNSHINE CITY SCARE
Sunshine City Scare offers 2 cosplay contests: Craftsmanship on Saturday and Runway on Sunday.
Saturday is 'Craftsmanship,' which means 50% or more of the cosplay must be handmade. And there is $500 in cash prizes for the Craftsmanship Contest. Pre-registration is required.
Sunday is 'Runway,' which allows store-bought costumes and focuses more on the ability to assume the character of the costume. Walk-up registration will be available on Sunday.
florida cosplay digital magazine will be there
Florida Cosplay Digital Magazine will be at Sunshine City Scare snapping lots of pics for its next issue. So if you're in a good cosplay, chances are you'll make the mag! Florida Cosplay Digital Magazine is a free monthly digital publication covers conventions and cosplayers.
subgenre #1: anime horror
Anime horror characters at Sunshine City Scare
4 voice actors who portray the following characters will be at Sunshine City Scare:
Denji from Chainsaw Man
Pochita from Chainsaw Man
Future Devil from Chainsaw Man
Enmu from Demon Slayer
Kuki Urie from Tokyo Ghoul:Re
Gabi Braun from Attack on Titan
Furlan Church from Attack on Titan: No Regrets
Jazz from Welcome to Demon School! Iruma-kun
Celestia Ludenburg from Dangonronpa: the Animation
Shinichi Izumi from Parasyte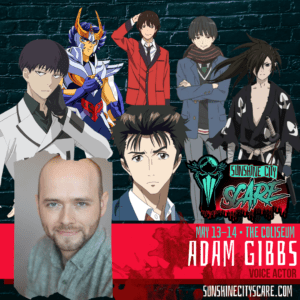 subgenre # 2: video game horror
The video game horror subgenre brings big-time characters from big video games through big-name voice actors. It's gonna be big! Characters from video games and shows based on video games include: 
Claire Redfield from Resident Evil 2
Alessa from Silent Hill
Little Sister from Bio Shock 2
Celestia Ludenburg from Dangonronpa: the Animation
subgenre #3: horror in movies & tv
Sunshine City Scare celebrates horror in movies & TV with 2 live-action actors who have played roles in major horror movies.
First is actor Jodelle Ferland who is most known for her portrayals of children in horror movies like Alessa in Silent Hill, Patience Buckner from Cabin in the Woods, Emily from Dark Matter, and Aggie from ParaNorman  (and some may remember her as the innocent child turned vampire Bree from Twilight).
Second is Casper Van Dien who is widely known for his roles is cult classics like Tim Burton's horror flick Sleepy Hollow and the sci-fi/action/horror movie Starship Troopers as well as several vampire movies including Modern Vampires and Vampire 3000. 
and #4 is a very special guest
Monster High creator Garrett Sander is making his first convention trip to Florida at Sunshine City Scare 2023! And in a huge announcement, Sander will be signing Monster High dolls FOR FREE at Sunshine City Scare both days. Attendees can bring their own Monster High dolls, or purchase the dolls from a choice of several vendors that will be stocked up. 
Sunshine City Scare 2023 is sponsored by Florida Comic Cons, a news site that covers comic, anime, sci-fi, horror, and pop culture conventions; and Florida Cosplay Digital Magazine, a free monthly magazine that spotlights cosplay throughout the state from features and interviews to photos from recent conventions; and Anime St. Pete, which is on Sept. 30-Oct. 1 at the historic Coliseum in beautiful St. Petersburg.