An adorable Maid Cafe is going to get creepy and spooky for Sunshine City Scare as part of the event's anime horror offerings. Sunshine City Scare — on May 13-14 at the Coliseum and surrounding area in downtown St. Petersburg — is a new breed of horror convention that features anime horror and video game horror as well as horror in movies and a very special guest. 
Mirai Maid Cafe, which has appeared at Brick City Anime Festival and Anime St. Pete, is enthusiastically jumping into the anime horror theme that will require a huge transformation from cute to scary. How is such a daunting feat possible? Well, to find out you'll just have to join them at Sunshine City Scare! 
The convention-based Maid Cafe from Orlando will be adding horror to everything they do from desserts and games to dancing and performances. And Mirai Made Cafe will have several performances on the main stage at the event. In addition, attendees will enjoy an exceptional maid cafe from an experienced cast (Miria Maid Cafe is the only stand-alone maid cafe in Orlando).
Anime horror characters at Sunshine City Scare
4 voice actors who portray the following characters will be at Sunshine City Scare:
Denji from Chainsaw Man
Pochita from Chainsaw Man
Future Devil from Chainsaw Man
Enmu from Demon Slayer
Kuki Urie from Tokyo Ghoul:Re
Gabi Braun from Attack on Titan
Furlan Church from Attack on Titan: No Regrets
Jazz from Welcome to Demon School! Iruma-kun
Celestia Ludenburg from Dangonronpa: the Animation
Shinichi Izumi from Parasyte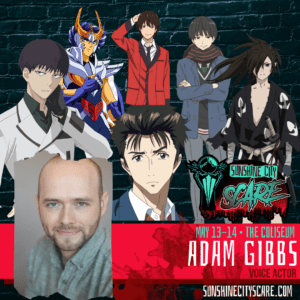 video game horror subgenre
The video game horror subgenre at Sunshine City Scare brings big-time characters from big video games through big-name voice actors. It's gonna be big! Characters from video games and shows based on video games include: 
Claire Redfield from Resident Evil 2
Alessa from Silent Hill
Little Sister from Bio Shock 2
Celestia Ludenburg from Dangonronpa: the Animation
horror in movies & tv subgenre
Sunshine City Scare celebrates horror in movies & TV with 2 live-action actors who have played roles in major horror movies.
First is actor Jodelle Ferland who is most known for her portrayals of children in horror movies like Alessa in Silent Hill, Patience Buckner from Cabin in the Woods, Emily from Dark Matter, and Aggie from ParaNorman  (and some may remember her as the innocent child turned vampire Bree from Twilight).
Second is Casper Van Dien who is widely known for his roles is cult classics like Tim Burton's horror flick Sleepy Hollow and the sci-fi/action/horror movie Starship Troopers as well as several vampire movies including Modern Vampires and Vampire 3000. 
Monster High creator Garrett Sander is making his first convention trip to Florida at Sunshine City Scare 2023! And in a huge announcement, Sander will be signing Monster High dolls FOR FREE at Sunshine City Scare both days. Attendees can bring their own Monster High dolls, or purchase the dolls from a choice of several vendors that will be stocked up. 
Sunshine City Scare 2023 is sponsored by Florida Comic Cons, a news site that covers comic, anime, sci-fi, horror, and pop culture conventions; and Florida Cosplay Digital Magazine, a free monthly magazine that spotlights cosplay throughout the state from features and interviews to photos from recent conventions; and Anime St. Pete, which is on Sept. 30-Oct. 1 at the historic Coliseum in beautiful St. Petersburg.