Sunday May 14 is Mother's Day. And Sunshine City Scare will honor mothers all weekend. We believe mothers deserve more than a boring ham dinner and a dozen soon-to-be-dead flowers. Mothers deserve a special experience tailored just for them.
For the special weekend, Sunshine City Scare crafted a concoction called "Happy Murder's Day," celebrating mothers who are murderers or who have birthed murderers in horror movies. Sunshine City Scare is May 13-14 at the historic Coliseum in beautiful downtown St. Petersburg.
Happy Murder's Day represents a wide range of horrifically wonderful movies that started with Psycho. Additional examples of mothers who birthed murderers includes Pamela Voorhees, Jason's mom in Friday the 13th, and Margaret White, Carrie's mom. And examples of mothers who were murderers includes Sue Ann Ellington in Ma, and Beverly Sutphin from Serial Mom. Moreover, an example of a mother who birthed a murderer, who also was a murderer herself, is Nancy Loomis, Billy's mom in Scream. You get the hang of it!
make mom feel special with a holiday card and photo
Activities are free and include Happy Murder's Day card-crafting, a special photo space, and a hallway cosplay contest. 
The Happy Murder's Day card-crafting is an arts and crafts area with branded cards and envelopes ready for customized messages and bloody decorations. The adorable photo of Jason and his mom, Pamela Vorhees, is the cover to the card. (c'mon, make your mom a card). 
And the special photo space is a branded backdrop. Also, the hallway cosplay contest features $100 in cash prizes. All of which is way better than what you had planned for your mom (admit it).
Be featured in a cosplay magazine
In addition, Florida Cosplay Digital Magazine will be there looking for Happy Murder's Day cosplayers to feature in its June issue.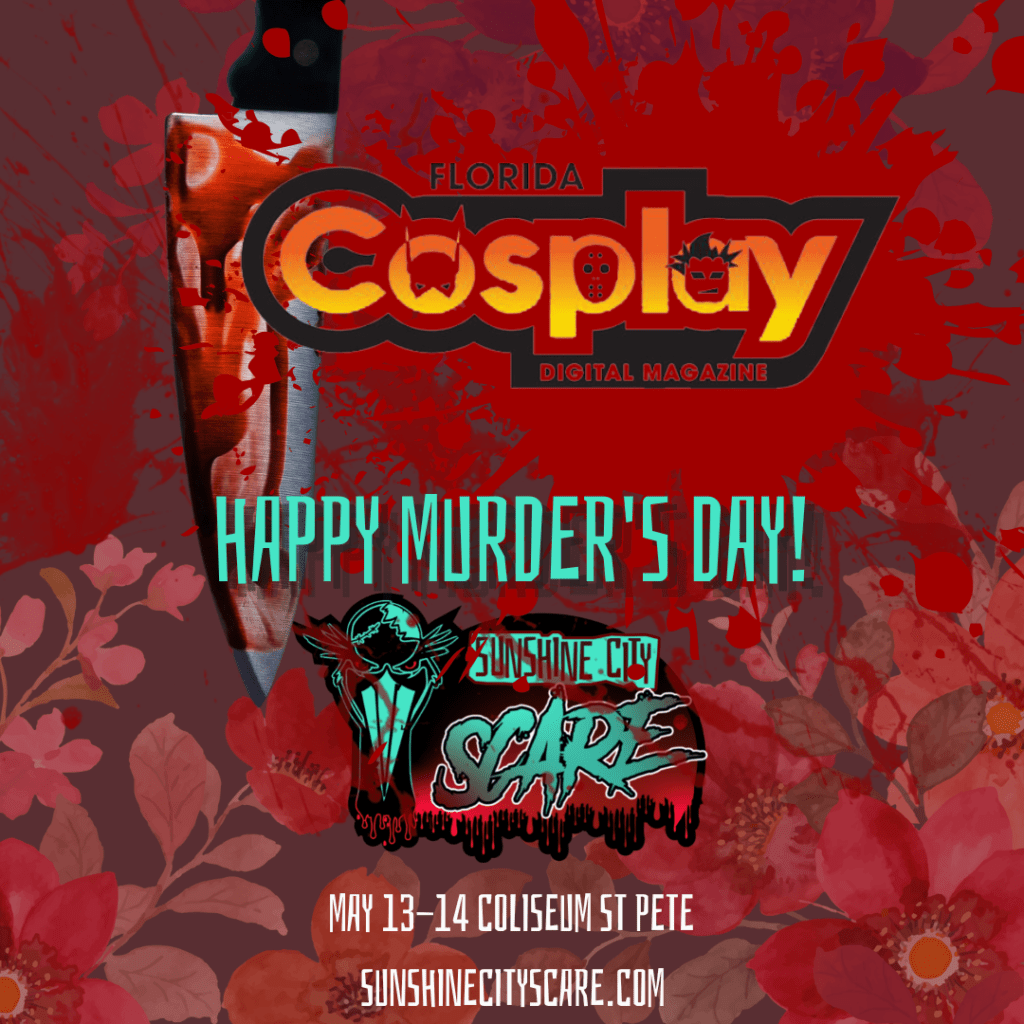 Sunshine City Scare 2023 is sponsored by Florida Comic Cons, a news site that covers comic, anime, sci-fi, horror, and pop culture conventions; and Florida Cosplay Digital Magazine, a free monthly magazine that spotlights cosplay throughout the state from features and interviews to photos from recent conventions; and Anime St. Pete, which is on Sept. 30-Oct. 1 at the historic Coliseum in beautiful St. Petersburg.